There's no better motivation for working out than your favorite tunes helping you push through the last mile you're running. Whether you prefer fast-paced music in the gym or relaxing songs when taking a jog in the evening, good Bluetooth workout headphones have become a crucial part of any fitness junkie's gear.
However, finding the right pair for your needs can be very difficult. That's exactly why we have decided to make an in-depth review and guide to the world of the best Bluetooth workout headphones money can buy!
To make things more simple, and give you a better overview of 2 main categories, we decided to split our pick to Earbuds on one side, and Over-Ear and On-Ear headphones on the other.
Reviews of The Best Bluetooth Workout Earbuds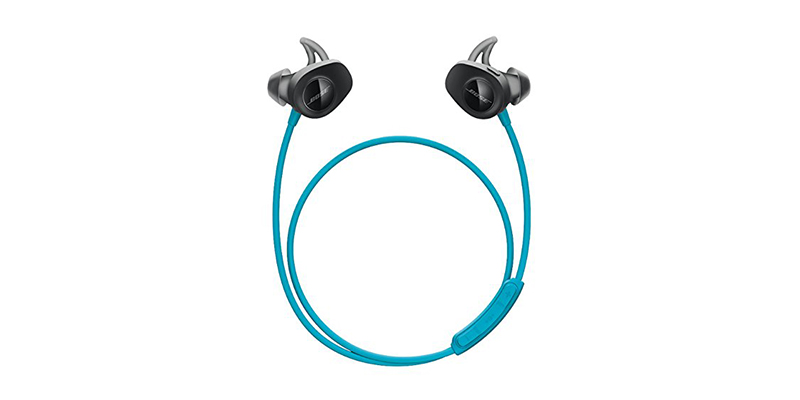 Pros
Nice fit
Passive isolation is on point
Very crisp highs
Reasonably priced
Cons
May appear as too bulky for some users
Below average battery life
The lows and mids could be better
No headphones review would be complete without including at least one model from Bose. Their SoundSport model is a great example of what the best Bluetooth headphones for working out should look like.
Fit
Unlike the wired version which is nice and thin, the wireless SoundSport running earbuds boast a bigger form factor but fit quite nicely nonetheless.
With interchangeable bud tips being somewhat a standard, it all really comes to the body of the buds when talking about getting a secure fit. The Bose wireless headphones utilize soft tips alongside flexible wings in order to lock securely in your ears.
Though a bit on the heavier side, we didn't have any problems with them falling out, no matter how hard we tried. They really stay put once you've placed them correctly.
Comfort
The Bose SoundSport wireless headphones for running do stick out of your ears a bit, but are pretty much unnoticeable, even after hours of wearing them.
Having to make a compromise between staying in your ears and being comfortable didn't seem to be a problem for Bose. Both the tips and wings were soft and flexible enough not to put too much pressure on the earlobe and canal.
Though the cable that's connecting the two earpieces isn't flat, we didn't feel like it was dangling too much or getting in the way.
Durability
Sure, they are made of plastic, but the overall feel can only be described as solid and long-lasting.
Bose made sure to seal all of the nooks and crannies nicely, making this model sweat- proof. Just be careful, as the 1st generation of this particular model had some problems with moisture getting inside the buds themselves.
Bose offered free replacements if you had the older version, so check which generation you're getting before making a purchase. The improved model (the one that we had the chance to try out) doesn't have that problem anymore.
Bluetooth Performance
With NFC pairing as a feature, you won't have any trouble connecting these puppies to your phone.
An average range of about 30 feet is good enough for most circumstances. Just be sure to keep your phone on your right-hand side, as the connection seems to be better that way.
Battery life clock in at around 6 hours, a bit less than the standard, as we've had the chance to see when comparing all of the different models. If you're not a power user, they will definitely last you about a week, with an hour or so of use each day.
Sound
Surprisingly, the low end could use a slight boost!
That's definitely not something we can say often about headphones. Though bass is present, it would be nice if there was slightly more of it.
The mids could use some improvements, but definitely less than the low end. Then again, it's kind of a personal preference at the end of the day.
Highs were definitely where Bose hit the spot. They are on point, and no matter how high the volume, they sound crisp and clear.
If you're not a power user and don't really care that much about getting a higher quality audio experience, the Bose SoundSport Wireless Headphones are a reasonably priced pair of workout headphones to go with.
CHECK PRICE ON AMAZON
Pros
Very nice and secure fit
Good build quality
IPX4 water resistant
Accurate audio signature
Great value for the money
Cons
Frequency range could be a bit wider
We all know by now the high-quality audio products JBL has been delivering for years on end. Let's see how their Reflect Mini Bluetooth earbuds for running compared to the other models we've mentioned so far!
Fit
Though the design can't be described as innovative, it definitely works and keeps the buds inside your ears at all times.
The tips themselves look and feel very nice, especially when compared to other models in this price range. Both them and the wings are soft yet strong enough to latch onto your ears and stay put.
JBL made a good decision by making the ear tips a bit shorter, as the base is then closer to your ear canal and makes a better seal. Not only does that mean you get a better isolation from outside noise, but sweat can barely reach the entrance of your ear canal as well.
Comfort
As probably the most lightweight pair of headphones for working out, the Reflect Mini by JBL feel amazing.
With their low profile, they barely stick out of your ears, making them perfect for any kind of exercise where you may find yourself accidentally hitting them or pulling them out.
The reflective cable not only makes you more visible at night but lays nicely on the back of your head, keeping the whole unit out of accidental reach.
Our only objection would be with the controls being a bit too close to one of the buds. It certainly takes time getting used to it, but we feel it could be slightly more useful having it moved towards the middle of the cable.
Durability
JBL knows that going with IPX4 water resistance is always a good idea.
What makes this model especially cool is the fact that it's so easy to clean.
After just a couple of workout sessions, chances are that your earbuds are going to get dirty. With all that sweat and dust, it can get hard to clean properly.
You can simply wash these bad boys with water, and have them sparkly clean in no time.
The cable seems flexible yet durable, and the buds, though not rubberized, feel very solid.
Bluetooth Performance
Average, yet appealing, the JBL Reflect Mini perform as we've expected in terms of range and battery life.
With around 8 hours of listening time, there isn't anything special worth mentioning. You charge the earbuds via the included micro USB cable. Unfortunately, there are no features such as quick charge with this model.
Connection tends to be a bit fussy if you move faster or jerk your head around a lot. However, we couldn't recreate this every time, so chances are that this is more of a software glitch on the phone.
Sound
Unlike some other wireless sports earbuds, the Reflect Minis won't pound your ears with unnecessarily huge amounts of bass.
The low end is present, in our opinion, in the right amounts. The main focus here is on mids, as they are very clear and accurate.
Using the right ear tips definitely helps, as the above- average sound signature gets slightly better, and makes for a very nice listening experience.
Though overall dynamics could be better, at the end of the day, using these earphones should get the job done for most people out there.
So, should you get the JBL Reflect Minis? With no deal breaker cons, the reasonably priced workout earbuds are definitely a good investment.
CHECK PRICE ON AMAZON
Pros
Comfortable
Durable design
Amazing range and battery life
Bass- heavy audio signature
Cons
In- line controls susceptible to moisture
Average noise- isolation
Some may not like the bass-heavy sound
Whether you love or hate Beats headphones, you simply can't deny that they've shown that they know the market for the best workout earbuds quite well. Their Powerbeats3 model combines a bass-heavy sound and durability quite nicely.
Fit
Following a pretty similar hook design as the previous model we've mentioned, this model offers a very tight fit and secure ear placement.
A nice addition is four different sized ear tips that should make for a nice and tight fit no matter the size of your ear canal.
The noise isolation is nothing special, with some of the other models we've tested performing better than the Powerbeats3. Though placing these Bluetooth sports earbuds in your ears may seem a bit difficult at first, after a couple of times using them, you shouldn't have any problems whatsoever.
Comfort
Being fairly lightweight, the Powerbeats3 are generally comfortable, with just noticeable pressure appearing after a couple of hours of use.
The ear hooks are big and flexible and grab your ears in a way that secures them without any discomfort. The cables, however, are free to dangle around, which may be a problem for some people.
A small plastic button is used to adjust the length of the cable on the back of your neck, but we found that even then it can bounce around on your back and be a bit distracting.
Durability
The folks at Beats definitely improved the overall build quality and durability of the Powerbeats3 when compared to the previous version.
Materials used for this model offer solid durability and give the earbuds a premium feel to the touch.
The cable though lightweight feels strong enough and probably will last longer. The only downside would have to be the seal on the in-line controls.
Sweat and water tend to get inside the controls and make them unresponsive after exposure to a certain amount of moisture.
Bluetooth Performance
Battery life and charge time are definitely where the Powerbeats3 dominate over the other wireless sports headphones.
With around 12h of battery life, you can use these buds when you're working out, as well as the rest of the day. Even the range is phenomenal, with the connection breaking at distances you probably won't even test out in real life use.
Just 5 minutes on the charger provides enough juice for 1 hour of use, enough for a quick jog if you forgot to charge them the night before.
Sound
As expected from Beats headphones, this model is also pretty bass heavy, with average mids and highs.
If you're an audiophile, chances are that you already know why to steer away from any Beats products. However, for the majority of users out there, the Powerbeats3 will do just fine.
Pop, rap, and other bass-heavy genres shine on these earbuds, so if you listen mostly to those genres, definitely consider this model.
If you are already a Beats fan and are looking for a good pair of sport Bluetooth headphones, the Powerbeats3 are a great option.
CHECK PRICE ON AMAZON
Pros
Amazing durability
Very comfortable and lightweight
Tight fit
Sweat and waterproof
Cons
Average sound quality
Can seem as too rubbery and floppy
As one of the top rated headphones for working out, the BackBeat Fit by Plantronics is an inexpensive option for anyone looking to enjoy some beats while breaking a sweat.
Fit
The hook design makes for a great fit, keeping the whole thing in your heads at all times.
The wires are neatly concealed in the flexible rubber body, with no extra parts flapping around as you move. Besides the rubber tips, there are additional hooks that make sure that the buds stay in place.
Sound isolation is on point as well. If you're looking for a pair of wireless earbuds for running, the BackBeats are a great choice, as they block out most of the noises found outside, giving you a closed environment for listening to your favorite tunes.
Comfort
By using only the most lightweight materials, Plantronics managed to achieve a very high level of comfort with this model.
It's like they aren't even in your head. Though some people dislike the unibody behind the neck- design, unlike most other models that went with this design, the BackBeat fit exercise headphones excel when it comes to comfort.
As we've previously stated, you will only feel the tips and a small portion of the band behind your neck, depending on the size of your head.
Durability
The rubbery plastic used in this model not only makes it lightweight but very durable as well.
As the design pretty much puts them out of the way of any unnecessary movement, they are bound to last you ages. When you're not using them, you don't have to worry about them breaking into your bag, as they are pretty flexible.
They are both sweat and waterproof, so using them in the rain or close to water won't be an issue. However, don't submerge them underwater, as they aren't swimming headphones!
Bluetooth Performance
Following a standard of 8h of playback time, the BackBeat fitness earbuds will definitely push through any exercise session.
Pairing up is easy and straightforward, and the connection was solid up to around 20 feet. Do have in mind that the range is affected by the device you're using as well!
The built-in controls and mic perform nicely, taking calls works, and the audio quality of the mic was very good.
Sound
To be honest, the sound quality on the BackBeat Fit gym headphones is… well, average.
Not that it's a deal breaker of any sort, but with all of the mentioned features and specs being above average, we expected the sound to follow as well.
It's only fair to compare this model to other workout wireless headphones out there. If you are someone that doesn't really pay attention to the quality of sound when listening to music, you won't be disappointed. Chances are that while you're working out, you won't be focusing that much on the details after all.
If you value durability and a tight fit over premium audio experience (and premium price), definitely check out the Plantronics BackBeat Fit, especially when they are less than $100. These are the best value for your money.

CHECK PRICE ON AMAZON
Pros
Sleek design
Very comfortable and fit snuggly
Premium build
Versatility when it comes to sound
Good value for the money
Cons
Not waterproof
Mids could be more accented
Not much of a step forward when compared to the X2s
As the first pair of wireless earbuds I've personally used, and is highly praised by MKBHD over on YouTube, are the JayBirds still worth buying?
Fit
The Jaybird X3 Bluetooth earbuds for working out not only fit snugly inside your ears but look sleek while doing so.
The slim profile, as well as the angled design, are featured in order to shoot your favorite tunes straight into your ear canal.
The mesh- styled wings are added for extra stability. While they are pretty flexible, they snap onto your ears and lock the buds in place.
What's really neat about this model is that even memory- foam tips are included, so you don't have to worry about not finding the right size amongst the silicone tips.
Comfort
Using the memory foam tips alongside the flexible wings keeps the buds in place while making them pretty comfortable.
Some people dislike using exercise earbuds that feature a hook or wing design. If you are one of them, we highly suggest trying out the JayBird X3s, as they give a completely different feel than all of the other models we've tried.
No matter how much you may sweat, the mesh- style flexible wings give your ears a chance to breathe, and you barely feel that they are there.
Durability
Both design and durability have been greatly improved when compared to the older models.
Though not looking tough at all, the materials used in this model ensure that they will last a good couple of years, if not more when taken care of properly.
Without a legitimate IPX rating, the X3s aren't officially waterproof, but provide enough protection from sweat, both when talking about staying put and working properly.
The flat cable not only feels more comfortable but is pretty strong as well, so you don't have to worry about accidentally snapping it.
Bluetooth Performance
The JayBird X3s are also a pair of running headphones which utilize Bluetooth 4.1 which means you can even use two of these at the same time with one source device.
Connection range is around 25 feet, with the buds still working at longer distances, but with noticeable stutters.
15 minutes of charging gives you a full hour of use time and the battery clocks in at 8h total.
Personally, we expected better battery life, as the previous model, the X2, featured the same specs in this department.
At the end of the day, 8 hours should be more than enough for most people.
Sound
What makes the JayBird X3s special, are the audio presets that you can configure, save, and toggle between easily.
The default settings, however, had a more bass than I would usually prefer. Mids sound decent enough, but again, no noticeable improvement from the X2s.
Highs were definitely improved, and no matter how far they are pushed, they don't sound bad at all.
Extra points for versatility go for the JayBird X3s for the presets feature, as you can literally shape the sound to your own personal preferences.
If you don't mind the lack of waterproofing and slightly less mids, the JayBird X3s are a great choice in the world of the best earphones for working out.

CHECK PRICE ON AMAZON
Pros
Amazing durability
IP67 water resistant
100% wireless design
Useful app
Neat charging case
Cons
Below average battery life
Kind of easy to lose
With a totally wireless design, the Jabra Elite Sport definitely deliver a unique approach to wireless running headphones.
Fit
At first glance, you have a lot of options for achieving that perfect fit, but is it enough?
With a selection of 6 differently sized tips, as well as two pairs of rubber wings, chances are that you will find the ones suitable for your ears.
However, it kind of takes time to find the right ones. Whether it's the fact that some of the tips just don't feature dimensions like other manufacturers do, or it's something else, getting a solid fit kind of got a bit unnerving.
Comfort
No matter which design or type of cable you use, the feeling of totally wireless earbuds is just too good.
Though opting for a completely wireless design means that you have to cram everything up inside the buds themselves, these are surprisingly lightweight.
They take some time to get used to, but after just a couple of days, you will feel like there is absolutely nothing inside your ears. After using them for extended periods of time, you will notice them, but then again, the battery life doesn't really allow you to do so, which we will talk about a bit later.
Durability
Having a good portion of the body wrapped in rubber was a good choice.
Not only does that mean that scratching them is pretty difficult, but dropping them, as they are two completely separate units, shouldn't concern you that much.
The rubber also helps with the sweat- proof feature. With no issues with moisture, sweat or rain, you can pop them in your ears, and forget about them. They are also IP67 waterproof, meaning you can take them swimming, but only for around 30 minutes of full submersion time.
Bluetooth Performance
This is where the Jabra Elite Sport wireless gym headphones kind of hit a brick wall.
Offering only around 3 hours of battery life is just about disappointing. With 8 hours being somewhat of a standard, offering even less than half that could be a serious dealbreaker for a lot of people.
A slightly newer model is able to push through 4.5 hours, and while that isn't a significant upgrade, it shows that the good folks at Jabra are aware of the flaws in their products.
However, don't simply forget about these earbuds, as the carrying case you get with them doubles as a portable charger, which is capable of giving the buds two more complete charges. So if you weren't planning on wearing them the whole day at all times, having the charging case solves the problem.
Sound
Providing a good seal, the slightly above average audio performance gets a nice boost in quality.
Sure, there may be a more generous amount of bass in the mix, but we wouldn't say it's too much. Mids and highs are present, clear, and pretty much on point.
A nicely put together EQ in the official app makes tuning in the right sound much easier.
We would even go as far as saying that audiophiles who prefer a flat response may actually enjoy the capabilities and overall sound signature that the Jabra Elite Sport running earphones provide, after, of course, playing around with the EQ settings a bit.
If battery life isn't your primary concern, definitely check the Jabra Elite Sport athletic headphones out!

CHECK PRICE ON AMAZON
Pros
Very clear audio
Rubberized and durable buds
The flat cable complements the comfortable buds
IPX4 splash proof
Cons
Average battery life
A bit on the heavier side
Sony as a company has proven so far as a high-quality manufacturer when it comes to audio equipment. But how do their MDR-XB50BS running earphones compare to other models?
Fit
Combining nicely fitting ear tips with rubber hooks makes the MDR-XB50BS stay put no matter how hard you work out.
Sony knows that having multiple options for both tips and rubber wings is important in order to achieve a tight fit. The provided accessories are definitely very helpful.
At the end of the day, trying out different combinations of tips and wings are crucial, especially if you have exceptionally small or large ears.
Comfort
While the buds themselves look a bit larger than other models we've reviewed so far, they feel pretty comfortable.
Honestly, they are kind of heavier than others, but definitely not to a point that it makes them unusable.
The flat cable helps a lot, as it is not too long and sits snugly on your neck or the top of your shoulders, depending on how big or small your head and neck are.
Though totally wireless earphones for running are definitely more comfortable, the MDR-XB50BS are very close.
Durability
At first glance, these earbuds may come across as feeling a bit cheap, but that is not the case at all!
Rubberizing the most of the body has proven to be a very effective method, both in terms of making the whole device much more durable and water/ sweat proof.
They kind of feel like gummy worms. Flexible, yet strong enough not to break when you accidentally tug or pull them.
These are officially IPX4 "splash- proof", meaning that they can withstand normal sweat or rain circumstances. Though they look like you could use them in more extreme occasions, we don't recommend doing so.
Bluetooth Performance
Average battery life and range are what the MDR-XB50S are all about.
You can pair these up via NFC or Bluetooth fairly easily. When it comes to battery life, Sony went with a safe bet, with the battery clocked at around 8.5 hours of listening time.
A standard micro USB cable is used to charge them, so you don't have to worry about carrying a special cable around just for your earbuds.
Sound
Sony markets this model as bass- heavy, and for a good reason.
Audiophiles, just look away. Don't get me wrong, the bass isn't bad, there's just a lot of it.
Personally, I prefer headphones with a flat or near- flat frequency response. However, I truly found the MDR-XB50S to be bass heavy, sure, but it was better than I expected.
I suppose that was because the sound was so darn clear. I didn't mind the boosted low end because it complemented both the mids and highs in a way that it was all rounded up quite nicely.
So, who are these for? Well, if you find yourself dropping your headphones often, or running in the rain, definitely consider getting the Sony MDR-XB50S.

CHECK PRICE ON AMAZON
Reviews of The Best Bluetooth On-Ear and Over-Ear Workout Headphones
Pros
Sturdy and flexible design
Comes with a carrying pouch
Stays in place
14 hours of battery life
Cons
Gets uncomfortable after wearing too long
Sound degrades at higher volume levels
Poor passive noise isolation
Though not as popular as JBL or Beats, Monster has made an attempt at wireless sports headphones as well. Let's see how their iSport Freedom model compares to the others.
Fit
For a pair of on-ear headphones, they fit surprisingly well.
If you're looking for workout earphones, but don't like the feeling of earbuds inside your ear canals, this may be a good solution.
The ear cups cover the most of your ears, unless you have exceptionally large ones, and lock in place as the pressure is great enough to do so.
Keeping most of the weight out of the band means that they won't wobble as much as you might have expected.
Comfort
Comfortable enough for working out, not so much for wearing them for the whole day.
Personally, I use over-ear headphones when at home, and earbuds when going anywhere outside. The on-ear design means that a certain amount of pressure is exerted on your earlobes.
In order to stay put, the amount of pressure needs to be great enough while still not making your ears hurt after some time. The iSport Freedom headphones kind of lean to applying slightly more pressure than needed, at least when it comes to comfort.
As we've said, great for a couple of hours, but anything more than that, your ears get a bit sore.
Durability
Sweat and water-proofing on-ear headphones isn't easy, but Monster managed that with their iSport Freedom model.
The material on the earcups doesn't absorb much of the sweat. But then again, they are very easy to clean, without having to worry about water and moisture getting inside.
Some sweat or rain may get inside of the cups while you're using them, which results in you having to take them off, wiping them, and putting them back on.
But in terms of overall durability, they are definitely up to the task.
Bluetooth Performance
14 Hours of battery life may seem as amazing, but in the world of on- ear and over- ear headphones, it's kind of the standard.
Not to diminish the specs in any way, having the flexibility of using these for days on end without having to think about recharging them is great.
The connection appears to be solid, with minor drops from time to time. However, we think that this was due to poor Wifi signal when streaming, and not the headphones themselves.
Sound
We expected the iSport Freedom headphones to blast us with unnecessary bass, but that wasn't the case at all.
The low end was present in pleasant amounts. The mids and highs sound clear, but at higher volumes, the highs tend to crackle and lose definition.
Passive isolation isn't great, which may be a good thing if you mostly go running outside, as you will be able to have a good amount of situational awareness.
But then again, if you're working out in a gym, chances are that you are going to hear outside noise.
So, if you don't mind a tad more pressure on your lobes, and the below- average noise isolation, the Monster iSport Freedom headphones just may be your go-to option.

CHECK PRICE ON AMAZON
Pros
Outstanding battery life
Useful controls on the earcups
Decent audio signature
Very affordable
Cons
Noise isolation could be better
Bluetooth dropouts are present
66 Audio presents their take at Bluetooth workout headphones with their BTS+ model. It features a slim headband design and ear cups with buttons which allow you to control everything when it comes to listening to music and taking calls.
Fit
The headband on these headphones is something between a regular headband and a neckband. It does take getting used to, but we found that it was very useful and keeps the headphones in place.
The main advantage of going with a design like this is that you can wear a beanie, cap, or helmet without the headphone band getting in the way.
The on-ear cups don't have to press on your ears that much, as the band hooks behind your earlobes in order to achieve a better fit.
Though the headphones will move slightly when, for example, jumping up and down, the movement is so minimal, you won't really notice it.
Comfort
While the ear cups are very soft and comfortable, the hook behind the lobes can get slightly uncomfortable.
The weight distribution of the BTS+ makes for a good experience. They are centered in a way that you won't feel them slipping off or pressing against your head in any place.
The only downside would be the part of the headband that goes behind the earlobes. It can brush against the sides of your head slightly, which gets a bit annoying after some time wearing them.
Durability
Flexible yet sturdy, the BTS+ are solid and built to last.
While they are not officially sweatproof or waterproof, we didn't seem to mind that. Sure, they get pretty sweaty after having them on your head and working out, but the BTS+ didn't seem to care.
Cleaning them, however, can be a bit difficult, as simply washing them with water isn't recommended.
Using them in rainy conditions shouldn't be a problem, but keeping them soaked in water doesn't look like a smart thing to do.
Bluetooth Performance
Featuring up to 30h of battery life, the BTS+ by 66 audio take the second place when it comes to battery performance in the category of on- ear and over- ear working headphones.
Though boasting a relatively slim profile and form factor, this model will last you a good week of moderate to heavy use.
Connection range is solid, with occasional stuttering and glitching. Taking calls is smooth, the built-in mic is average, and the onboard buttons work nicely.
The BTS+ even feature noise cancellation when using the mic for taking calls. Definitely a useful feature, especially when running around the city.
Sound
With average noise isolation, you will need to crank up the volume a bit more than usual.
The low end while being more on the boosted side, is pretty thick and clear. Mids and highs could be more accented, but the overall sound signature of these headphones is surprisingly good.
While being able to hear oncoming traffic when working out outside, the passive isolation lets the surrounding noise in more than we've expected. Not something you would want at all times.
The neckband-ish design is perfect for anyone who wears any type of headwear while working out. With a low price tag of under $50, the BTS+ are a great budget-friendly investment.

CHECK PRICE ON AMAZON
Pros
Solid fit
Lightweight design
Impressive battery life
Can be used with a cable
Cons
Too much bass for anyone other than fans of Beats headphones
Pretty pricey
Once again we are taking a look at a pair of beats headphones, but with the Solo3, we're talking about an on-ear design.
Fit
With a different material to provide better friction and fit, the Beats Solo3 stay put on your head quite easily.
Though synthetic leather may not seem like the material you would want to wear on your ears for prolonged periods of time, the friction and fit it gives is very good.
The headband can be stretched out in order to accommodate different head sizes but doesn't provide any added stabilization besides the rubbery pads.
When compared to other on-ear headphones, these beats wireless Bluetooth headphones prove as average in terms of a good fit.
Comfort
Having synthetic leather ear cups may provide additional friction, but is it uncomfortable?
Well, I've stated previously that I personally don't really like the on-ear design. However, because the headband is pretty stiff and doesn't really grip the head, the pressure the ear cups make on the earlobes is kind of too hard for me.
It's comfortable enough for about a couple of hours, but anything more than that will get a bit uneasy.
Durability
With the build quality almost the same as with the previous models, the Beats Solo3 didn't seem to evolve that much.
Sure, the internal frame is made of metal and is covered with relatively cheap feeling plastic. Not to say that this model is of any lower quality than most other competitor models, but it definitely doesn't feel premium.
There are better options in terms of durability out there, but the Solo3 will last you a good amount of time if you take good care of them.
It's a real shame Apple didn't include any type of sweat resistance.
Bluetooth Performance
Including the new W1 chip makes pairing up much easier, and the connection a bit more stable.
However, do have in mind that this is applied only if you use these headphones with an iPhone.
With around 40 hours of battery life, it really doesn't get any better. It's also stated that with only 5 minutes of charge time you can get around 3 hours of playback time.
If you somehow manage to drain the battery completely, you can always use these headphones with a cable, something the power users out there may find as crucial.
Sound
With a sound very similar to the Solo2, the Solo3 will overwhelm you with the low end.
Getting this model as a fan of Beats headphones in general, you really can't go wrong.
While the bass is very present and hard-hitting, it surprisingly doesn't suppress the mids and highs. The sound can be described as boomy, but very crisp and clear at the same time.
However, with a relatively high price point, the Solo3 have, unless you really prefer the bass-rich sound, we wouldn't recommend these.
Want bass and don't mind a high price? Definitely consider the Beats Solo3.

CHECK PRICE ON AMAZON
What to Look For When Buying Bluetooth Workout Headphones?
Let's take a look at the most important specs and features the best workout headphones should have!
Crucial Features
Unlike regular earbuds and headphones, workout headphones should meet certain expectations. Here are the most important ones:
Snug fit
Sweat resistance
Solid build
Good noise isolation
Decent battery life
High-quality audio
Think of sports headphones like this: they are primarily a piece of workout equipment. In order for them to serve a purpose, they mustn't stand in your way when you're working out.
Chances are that you're going to hit them or even drop them on certain occasions, so build quality has to be decent enough for them to not break easily.
Whether you're running outside or working out in a gym, noise isolation is an important factor, as the surroundings can get pretty loud.
As with any Bluetooth device, battery life plays an important role, and workout earbuds are no exception.
At the end of the day, as with any headphones, you want a crystal clear sound. Don't sacrifice audio quality over any of the mentioned features. Though it may cost you more, workout earphones with poor audio quality are a bad investment altogether.
Earbuds or Headphones? Which are More Suitable for Working Out?
When it comes to different form factors, the focus is primarily on the fit.
Earbuds, in general, provide a better fit, and won't fall out of your ears that often. Sound isolation is better, resulting in a better listening experience as well.
Headphones, on the other hand, tend to be too bulky and heavy, and can easily slip off. However, there are some models out there which provide a solid alternative for people that work out but don't really like using earbuds.
At the end of the day, earbuds seem like the better option. If you really can't stand the feeling of having something inside your ears, consider the on- ear and over- ear models we've reviewed.
Wireless or Wired? What's Better for Exercising?
Personal preferences aside, here are the pros and cons of wireless workout headphones:
Pros:
No cables to restrict your movement
Smaller form factor
Less weight on your head
Won't get tangled with the rest of your equipment
You don't have to keep your phone/ mp3 player on you at all times
Cons
Need to be charged
Audio quality isn't always great
Generally more expensive
It all depends on what you find the most important. Personally, we find wired headphones to be too restricting. It's only a matter of time when you're going to snap them out of your ears accidentally.
Not only can you hurt yourself, but you can easily break the buds themselves to a point beyond fixing.
Tips for Improving your Wireless Workout Earbuds
When you finally decide which model to get, there are still a couple of things you can do in order to improve your experience:
Get custom molded tips – There are relatively inexpensive ways to do this. It will improve the fit as well as the audio experience
Smart cable management – Route the cable that's connecting the two earpieces in a way that it doesn't get in the way. If you have long hair, you can always use your hair clips and secure the cable to your hair
Use add-ons for the best fit – Many of the best workout earbuds come with additional parts that fit on the outside of your ear for a better fit. Try them out, as they can make a huge difference when you're, for example, running
Is Showering with My Workout Bluetooth Headphones Safe?
Well, it all depends on the IPX rating of the model you're using. However, some manufacturers don't like to reveal the actual rating of their products.
Having sweatproof, or even waterproof earbuds doesn't necessarily mean that they can work in the shower.
Unless you've checked with the company itself, it's better to just take them off when you shower after working out.
Conclusion Time!
As you've had the chance to see, there really are different workout headphones and earbuds you can get. Let's take a look at our pick in terms of different categories:
Best All-around – Bose SoundSport Wireless, winner.
Best Sounding Earbuds – Powerbeats3, we found that it had the most accurate audio signature.
Best Value Earbuds – JBL Reflect Mini, very good value for a reasonable price.
Best Sounding On-Ear Headphones –Monster iSport Freedom, though isolation could be better, the sound is fantastic.
There you have it, folks! We hope that you found this review and buying guide helpful. As always, thank you for reading, and we'll see you in the next one!