It looks like the Beats Pill+ will be released next month and cost about $225.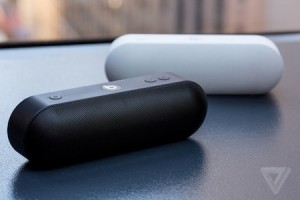 I haven't been that impressed with Beats products, but this feature is really intriguing to me.
The new Beats Pill+ companion app will enable users to control the speaker using a smartphone, with features including the ability to control music from two Bluetooth sources and sync two Beats Pill+ speakers together for either simultaneous or dedicated right and left playback.
It's cool that you can purchase two of them and get REAL stereo separation. The audiophile features aren't impressive enough to conquer my doubts, however. The biggest problem I have with the Beats Pill+ is something so seemingly trivial that it shouldn't stop me from buying one, but it does.
It doesn't have a handle.
I want to be able to EASILY carry the speaker, whether it's playing or not. I don't want to put it into a backpack. I want to carry it. With a handle. That's built-in.
I looked long and hard for a good speaker system that would let me play my music from my phone or the radio. I ended up going with the Sangean PR-D15.
It plays my music. It plays the radio. It can use rechargeable batteries. It cost me less than eighty bucks. And most importantly, it has a handle, so I can easily carry it. The Beats Pill+ might be super cool and all, but I want something that I can USE, even if it looks like a square box from the Eighties.
Beats Pill+ Image Via: The Verge: Beats' Pill+ is its best speaker ever