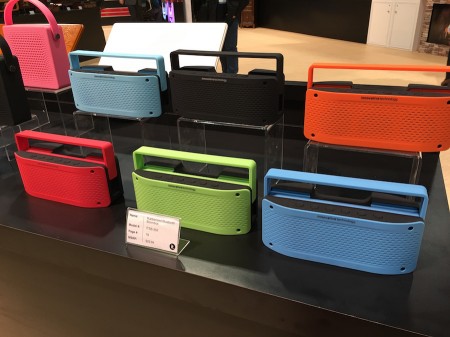 One of the most nostalgic booths we saw at CES 2016 was Innovative Technology.
What attracted me to their booth were these bluetooth speakers that have a HANDLE.
It's so rare that bluetooth speakers have something as convenient as a handle, so these really caught my eye. If they had included a digital radio tuner, I would have instantly fallen in love and went on a quest to find them.
They have a HUGE line of nostalgic turntables that also play CDs.
As far as radio bluetooth speakers, this one my least practical favorites. I love the huge gramophone design with its steampunk flair, an analog radio tuner and also connects to your bluetooth device to play your favorite tunes.
They also had a wide variety of phones, turntables and bluetooth radios that were in the Fifties style.
The suitcase turntables reminded me of my childhood, but I can't imagine they would be popular. It surprised me how many different booths had suitcase turntables.
I liked the design of this suitcase turntable the best.
Of all the Fifties designs, I liked this radio bluetooth the best. Ironically, because there was such a huge resurgence of Fifties nostalgia in the Eighties, it reminds me of my childhood.
They also had a selection of Eighties retro gear, such as these bluetooth radios. They also had a convenient handle. They were so focused on the retro, though, they kept the tuner analog. Had the tuner been digital, I would have been scouring the Internet for one of these cute boomboxes.
I really liked the variety of styles Innovative Technology had available at CES this year. They might be using old designs, but they have made them new and fresh with bluetooth technology.