Having a good pair of headphones can have a massive impact on your mixing and production. Besides using monitor speakers in your essential equipment list, studio headphones are great for getting a clearer sonic image, especially as studios can get pretty loud.
Let's take a look at our pick of the Best Studio Headphones you can buy!
Sony MDR7506 – Best Studio Headphones Under $100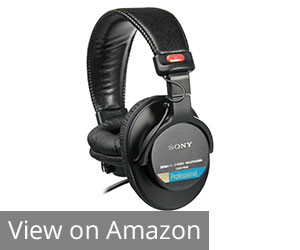 Though Sony has been kind of overrun by many other companies when it comes to professional headphones, the MDR7506s are still a good choice, having much to offer at an affordable price.
Featuring a sturdy design, these should last you for quite some years. The design of choice was closed back, and we have to say that they feel surprisingly comfortable.
The 40mm drivers deliver a solid sound, up to 106dB, more than enough for everyday use. As they weigh only 230g, having them on your head all day won't leave you with a sore neck.

Having a gold plated 3.5 on the end of a coiled cord adds to a nice look, as well as a slightly finer sound.
Sony claims that these headphones provide a nice and flat response. However, we found that the highs pop out a bit more than expected. The mids and lows, on the other hand, were pretty much accurate, making the MDR7506 a nice option as headphones for mixing.
The MDR7506 are the go-to Sony studio monitor headphones, especially if you're on a tight budget. Definitely offering more than most other cheap studio headphones, these will give you a good audio image of your mixing work.
Pros
Cheap yet sturdy
Relatively flat response
Comfortable to wear
Great value for a low price
Cons
Not that great for live performances
Overly pronounced highs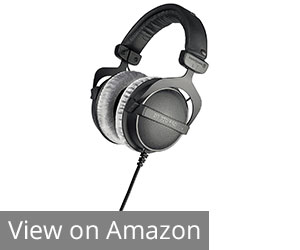 As the big brother of the very popular DT150, the DT770 PRO from Beyerdynamic is a clear win in the category of the best studio monitors under 200.
The clean and minimalistic design of these headphones complements the audio quite nicely. Though the plastic that holds the ear pieces is a bit flimsy, working with these in a studio, where they won't endure much stress shouldn't be a problem at all.
The padding and the surrounding cloth makes these feel nice and tight, comfortable to wear for prolonged periods of time, without any heating up.
The amazing frequency response, going as low as 5Hz and as high as 35kHz makes the DT770 PROs one of the best mixing headphones out there. The low end feels amazing, though it is a bit more pronounced, it is pretty accurate.
By having all of the mentioned features, great audio, nice design, and being very comfortable, the DT770 PROs are a sure recommendation as one of the best monitor headphones under $200.
Pros
Nice design
Big frequency response range
Low end feels great
Very comfortable
Cons
Flimsy plastic piece requires careful operation
Some may not like the slightly boosted bass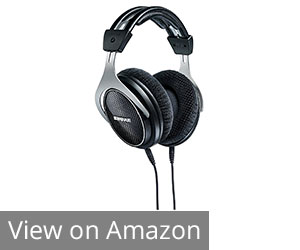 Stepping up from the previous models, the SRH 1540 by Shure is one premium choice when it comes to best quality headphones. But how do they perform in the studio?
The first thing you might notice about these bad boys is that they are no standard plastic headphones. The material of choice here was airplane-grade aluminum, giving them both amazing durability and a sleek look.
Even though they are made of metal, the SRH 1540s are fairly light. At 286 grams, with a padded headband and cushion style earcups, these headphones are amazingly comfortable to wear.
Getting the mids and highs right is fairly easy amongst headphones in this price range, while the low end can be a problem as it requires more space to resonate. The SRH 15540s, however, don't have a problem with providing the user with enough bass.
Shure has once again shown that they know their business. Their SRH 1540s offer not only premium build quality but balanced and natural sounding audio. We would recommend these as one of the best studio monitor headphones if the around $500 price point isn't a problem for you.
Pros
Lightweight
Sturdy build
Premium materials
Great audio, flat response with natural-sounding lows
Cons
The 6ft cable could be a bit longer
Sennheiser HD 600 – Best Recording Headphones – Open Back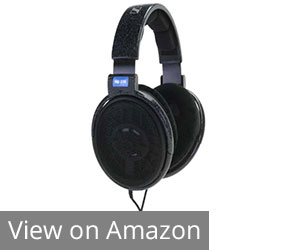 Though we previously explained why we prefer closed back headphones to open back ones, we felt that including the Sennheiser HD600s was only fair.
Highly regarded as one of the best headphone brands, Sennheiser opted for an open back design for these puppies. Though there is certainly going to be some audio leak in and out of these headphones, the rest of the specs definitely make it worth.
The body is made of plastic, and the mesh that covers the open back is metal. As expected from Sennheiser, comfort isn't questioned, wearing these the whole day won't leave you with a nasty headache.
Paying attention to all the details, the cable is an oxygen- free- copper one, with extra kevlar reinforcing, and can also be detached, for easier transport.
Popping these on your head immediately gives you the clear impression of them being more than studio quality headphones.
The overall quality and definition of the sound are unmatched by most other competitor models at this price range. Sounding really warm, they do lack a bit in the low end, but nothing too bad.
Rich with neat little design features, and offering premium audio at a reasonable price, the HD 600s are some of the best sounding headphones that we've had the chance to try out. A warm recommendation for anyone in need of good headphones for their music production studio.
Pros
Comfortable to wear
Very sturdy cable
Solid flat response
Punchy mids
Cons
Slightly weaker low and high end
As yet another company known for making top rated headphones, AKG has taken an interesting approach with their K240 MK II model.
Featuring a semi- open design, the idea was to have the best from both worlds. A slight portion of the sound is going to leak out, in order to prevent excessive build- up.
Outside noise shouldn't be a problem, as turning the volume up a bit is often enough for the signal audio to overpower the surrounding sound.
A design which we find very useful is the self- adjusting headband. Not only does it provide the perfect fit, it also prolongs the life of the headphones by avoiding the plastic slider mechanism, which is the part that breaks the most often.
Audio is well balanced, with both bass and treble having that needed kick. The K240s are all about precise and accurate sound representation.
As a well- rounded pair of monitors, the K240s are cheap studio headphones with surprisingly solid performance. As they cost less than $100, they are a great way of getting into sound mixing and production. These are also highly praised as the best headphones for EDM production by Reddit users.
Pros
Balanced flat response
Comfortable to wear
Long lasting self- adjusting headband design
Interchangeable cable (coiled and straight)
Cons
Some may not like the semi- open design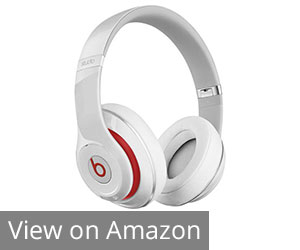 You either love them or hate them, the Beats by Dr. Dre series of headphones has had quite a presence in the media for quite some time now. Are they a pair of good studio headphones, or just a smart marketing gimmick?
Unlike the rest of the Beats series, the Studio Wireless were designed as monitor headphones. Without the unnecessarily huge bass boost, they're famous for, this model is actually a good option for studio use.
The design is sleek and feels less bulky than other Beats models. Spongy earpads are made of memory foam, and covered in leather, making these headphones very comfortable to use.
As these are wireless, battery life plays an important role. With around 12 hours of audio performance, the Beats Studio Wireless can be relied on for the whole day.
The audio is well- balanced, and luckily is bass- heavy to a reasonable extent.
A great feature that is included, is the active noise canceling, with two different modes of operation. One for listening to music, and the other for complete audio isolation.
Having a unique approach and a defined audience, the Beats Studio Wireless managed to perform quite well in our studio. The fact that there are no cables involved makes working long hours way easier. However, with a high price at around $400, this model is, at least in our opinion, for rap and RnB enthusiasts who, at the same time, prefer a more stylish option.
Pros
Much better bass control
Great battery life
Neat noise canceling options
Sleek design
Cons
Hissing sound between songs
There are better options in this price range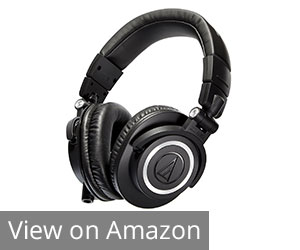 Dominating the audiophile headphone market for quite some time, Audio- Technica presents the ATH- M50x, which we chose as the best studio headphones when it comes to quality.
As an upgraded version of the famous M50s, the M50x offers some new and quite useful features. The 45mm drivers with rare earth magnets are sure to give anyone a unique listening experience.
Perfect for traveling and safe storing, the 90- degree swiveling cups fold up neatly. With high- quality materials and flexible build, the M50x are going to last a long long time.
Unlike most other professional studio headphones, the frequency response isn't flat. The curve is a classic V shape, with more accent given to lows and highs. How come that they are even considered as studio monitors then?
Well, the overall versatility that they provide simply overpowered the need for a truly flat response. The M50x can be used for just about anything, from casual music listening sessions, to basic audio mixing and producing.
As definitely the best sounding headphones for different use scenarios, the ATH- M50x are a great investment, considering the price point of under $150. While some audio engineers may not consider them as the best studio headphones for mixing, they certainly can find an audience for that as well.
Pros
Awesome build quality
Portable
Interchangeable cables
Versatile
Cons
Not for audiophiles who use only flat response headphones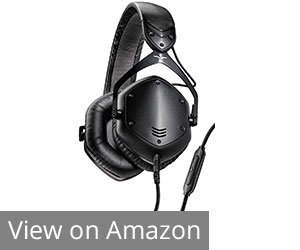 Maintaining a cool look while still being one of the best sounding headphones for studio use, the Crossfade LP2 by V-Moda are the best-looking headphones on the market.
The design reminds of some gaming headphones I've had the chance to use. The outside features a plate with visible screws, giving the headphones that industrial and sturdy look.
The 50mm dual- diaphragm drivers provide a natural and vibrant bass, mids and highs, without any overlapping of the different frequencies.
Featuring a slight boost in the low end shouldn't be a problem even for the most avid lovers of pure flat- response headphones.
With passive noise isolation, any outside sounds are easily canceled, which is important especially in studios.
Probably the point in which this model stands out the most is the durability. The ultra- reinforced cable coupled with a flexible headband and weather- resistant earcups make the Crossfade LP2 a sturdy pair of headphones.
As the best rated headphones when it comes to design and quality, the Crossfade LP2s by Audio-Technica provide a solid studio monitor experience, while looking damn fine, and guaranteed to last you a lifetime.
Pros
Balanced sound
Attractive design
Amazing durability
Solid noise isolation
Cons
Again, some may not like the bass boost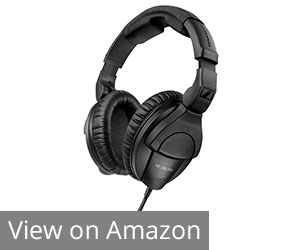 Yet another great model from Sennheiser, the HD- 280 Pros are the best headphones for music production if budget is a factor.
The overall design of these bad boys is pretty satisfying. The headphones can easily be folded up into a more compact format, perfect for traveling.
Though plastic was the material of choice, the 280s feel solid and most importantly comfortable. The thick padding on the headband and earcups feels very soft.
The coolest thing about this model is the fact that every single piece can be replaced (except the drivers), so even if you manage to break or lose a piece, you can always get a new one easily.
As far as sound goes, the fact that these provide a frequency range of 8Hz to 25kHz and a noise canceling feature of 32dB should be pleasing enough for most users.
Considering the reasonable price point of around $100, the Sennheiser HD- 280 Pros are one of the best production headphones in that price range.
Pros
Very portable
Comfortable
Sound great
Surprisingly wide frequency range for the price
Cons
Some users found them uncomfortable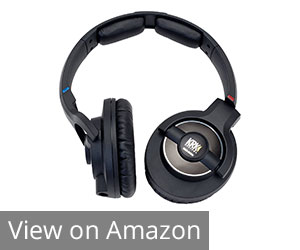 And finally, we have the KNDS8400 by KRK at number 10. Though not that well- known of a company, this model shows that they too know their business.
The KNS8400 feature a closed back design with very soft earcup padding. The headband provides a nice resting place for the top of your head with two large cushions as well.
Having a detachable cable is a neat option, which is also included in these headphones. The cable also has a built- in volume slider so you can adjust the volume at any time.
The 40mm neodymium drivers are more than capable of pushing out quite a punch. An amazingly broad frequency response of 5Hz to 23kHz delivers natural sound with a kick in the bass and clear highs.
As any of the best headphones for mixing have to offer, the KNS8400 provides excellent sound isolation, so no audio comes in or out of the earcups.
KRK has shown that you really can make a pair of the best production headphones with all the necessary specs and features, and for a reasonable price.
Pros
Neat design
Flat frequency response
Useful volume controls on the cable
Feel great on the ears
Considerations Before Purchasing
As with any product you're planning on buying, there are certain aspects to take in consideration.
With studio headphones, it's not that complicated as you might have thought.
The Budget – Ask yourself how much are you ready to spend on a pair of headphones. Top headphones can go up to a couple of thousands of dollars. This doesn't mean that they are way better than less expensive ones, but you do get what you pay. Try to avoid the overly cheap ones, as they tend to skimp out on important details, such as durability and overall build quality.
The Main Purpose – Though recording and mixing can require slightly different headphones, you should be able to pull it off with one good pair. Do have in mind that listening to music on these headphones can sometimes feel a bit bland, especially if you haven't used any monitor headphones so far.
Build quality – Headphones take a lot of stress, especially when being used constantly, and as a primary piece of equipment. Besides the audio quality, look for models which are made from more enduring materials, such as aluminum or other metals. Taking them on and off, flexing them, and accidentally dropping them on the ground can leave you with a pair of broken headphones very quickly if you go for less durable ones.
Comfort – As it goes for durability, the same applies for comfort. Wearing headphones over your ears for extended periods of time can get pretty uncomfortable. Whether it's them pressing on your earlobes or simply causing your ears to heat up quickly, top headphone brands address this problem by using simple yet effective designs and materials.
Consumer vs. Professional Headphones
There is a huge difference between consumer and professional, studio monitor headphones.
Consumer grade headphones come in all shapes, sizes, and prices. The main focus on most headphones in this category is on looks and sound quality, but in a different way than professional ones.
For example, gaming headphones tend to focus on surround sound, whether it's emulated or provided by multiple drivers.
Casual headphones, the ones most people use for simply listening to music, watching movies and shows, tend to have a slight boost in mostly the lower end of the frequency range, so people get the most 'exciting' experience.
Professional headphones, on the other hand, are designed primarily for audiophiles. Whether you're a person which values high fidelity sound, or a sound engineer in need of an audio experience which accurately represents the mix, these headphones offer exactly that.
Frequency Response
In order to give you the best example of differences between these two types of headphones, we're going to talk about something called frequency response.
This is the parameter that shows how your headphones treat the signal that they receive and if they process it in any way before the sound reaches your ears.
A Flat frequency response is what the best audiophile headphones should offer. This means that you'll be hearing the audio the same way that it was recorded, without any bass, mid or treble altered.
This is crucial in studio monitor headphones because it puts you in total control over the mix. Being able to clearly hear the song you're working on is the foundation of good mixing and production.
An Altered frequency response is what most consumer headphones provide. Usually, there is a varying boost, mostly when it comes to bass and treble. Mids are cut off, although not entirely, usually to a big extent.
This is done so the user has more of a feel when listening to music, but it also makes most of the songs listened sound similar, at least in the EQ sense.
The flatter the response, the more accurate the audio image you get from your monitor headphones.
Closed Back vs Open Back?
The biggest difference in design, however, is whether the headphones are closed or open back.
Open Back Headphones are exactly that, they have a grill on the outside of the drivers, which allows both air and sound to move freely.
This means that your ears won't heat up when using them for longer periods of time, but you will hear outside sounds and noise. Though they are useful for example, when you're outside, and need to have a sense of your surroundings, like other people or the traffic, your listening experience quickly degrades.
Closed Back Headphones, on the other hand, provide a more private, and pretty much totally quiet environment, in which you can clearly hear everything coming through the drivers. The excessive heat problem can simply be solved by using different materials which let your skin breathe.
Personally, I prefer the closed back design, especially when in a studio. All the noises from other people and instruments don't reach you, and you can concentrate fully on the work you're doing.
An important thing to consider when using this type of headphones is the potential hearing damage that could occur.
As sound doesn't have a way of escaping besides reaching your ears, you should be extra careful when adjusting the volume. Hearing damage and trauma accumulate, and with every next session, your hearing degrades more, leading up to you becoming deaf if you don't pay attention.
Simply don't have your headphones on blast mode all the time, and you're good to go.
Final Words
As you had the chance to see, there really are great options when it comes to the best studio monitor headphones out there.
However, some models performed better than others in different categories. A quick recap:
Shure SRH 1540 – Our choice as the best mixing headphones, as well as the most comfortable headphones out there. With premium material build and excellent audio output, it doesn't get much better than them.
If budget is an important factor, go for the Sony MDR7506 or Sennheiser HD- 280 Pro.
However, if style is your thing, the V- Moda Crossfade LP2 is our pick as the best looking studio headphones.
There you have it. We hope that you found or quick recap of the most important things to consider when buying studio headphones, and our top 10 headphones list useful.
Now that you know what to look for and have a good image of the best models out there, it's up to you to choose the best ones for your needs!
Related Gadget Reviews and Buyer's Guide