Update 01-15-15
The incredible Mike Dodas recognized the computer and the people in the photos! He identified some of them and told us the whole story about them here:
Thank you, Mike, for sharing all this information with us! I love hearing about the old systems and I believe all of it should be saved and archived. Wishing you the best in all you do!
Our picks on the best technology gadgets
---
I found these photos in a local antique store in Salt Lake City and I knew that I HAD to have them. It's obvious that these people are so proud of their RCA Spectra 70.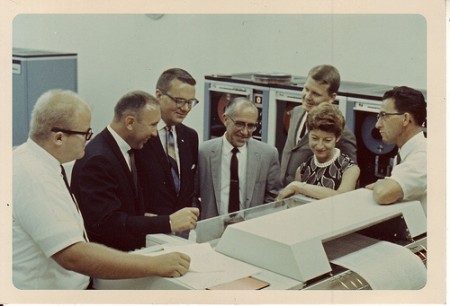 Here is a little more information on this particular computer.
The RCA Spectra 70 was a line of electronic data processing (EDP) equipment manufactured by the Radio Corporation of America's computer division beginning in April 1965. The Spectra 70 line included several CPU models, various configurations of core memory, mass-storage devices, terminal equipment, and a variety of specialized interface equipment.

The system architecture and instruction-set were largely compatible with the non-privileged instruction-set of the IBM System/360. While this degree of compatibility made some interchange of programs and data possible, differences in the operating system software precluded transparent movement of programs between the two systems.
Michael found these PDFs of the RCA Spectra70 Brochures:
RCA Spectra70 Brochure – 1965
RCA Spectra70 Brochure – 1968
If you notice, the 1965 brochure doesn't mention a Salt Lake City office, but the 1968 brochure does. Considering that RCA stopped selling the Spectra70 in 1970, I suspect these photos are from the opening of the Salt Lake City office. There were few companies in Utah who would be so proud of their computer back then: Evans and Sutherland or maybe the U of U.