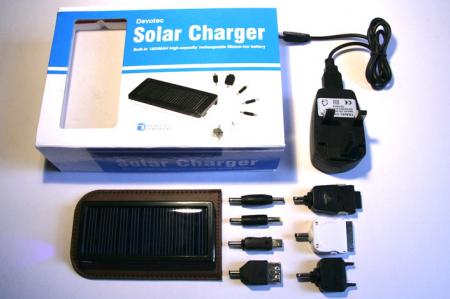 The nice people at Devotec sent me a Solar Charger to test. It came with collection of adapters, so it can charge a wide variety of electronic devices.
I was most interested in my iPhone. It's the device that goes dead first when we are camping, so I wanted to see if it would work. It did and I have been able to charge my cell phone with the adapter a couple of times this summer while we've been out and about.
When I upgraded my iPhone from the first generation to the 3G version, a lot of things that used to charge my iPhone, stopped working. Fortunately, the Devotec Solar Charger kept working like a dream.
The way it works is the solar cells charge a lithium-ion battery. When I need to power up my iPhone, it gets juice from the battery AND the solar cells.
The only disadvantage is that it is almost the size of my phone. Since the iPhone doesn't have the option of a removable battery, the Devotec Solar Charger is actually the BEST way to have a backup battery for my phone just like I used to have for the Treo. If you were bothered by the lack of additional battery option with the iPhone, this is just the device for you.
Update 10-14-09: I just tested this charger with the iPhone 3GS. Unfortunately, it does NOT charge that phone.