iPhone Works With Mercedes Benz Bluetooth and iPod Integration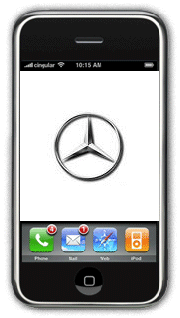 The iPhone works seamlessly with the Mercedes Benz stock iPod adapter, as well as with the integrated Bluetooth MHI (Multi-Handset Interface) transceiver. In fact, the iPhone actually works better than the Motorola devices that the system was originally designed for, because if you have both the Bluetooth interface and the integrated iPod connector, you can charge your iPhone while it's in your car without a cigarette lighter adapter. With the Motorola phones, the Bluetooth MHI adapter replaces the wired MHI cradle and prevents you from charging your phone when you have it installed.
Don't Miss
Best of all, both the Bluetooth transceiver and the iPod integration can be retrofitted in any Mercedes Benz made after 2004 by the dealer, so if you've got a Mercedes and an iPhone, you're only about $1000 away from combining the two.
The following features have been verified to work with the 2005 model year and later iPod adapter and Bluetooth interface:
All iPod features, including in-dash song display and steering wheel button control
Handsfree (headset profile) works through the built-in mike and speakers
Answer/Hangup steering wheel and COMMAND buttons
Address book upload for name selection in the navigation or stereo display
In-dash address book name display and dial
All the features work simultaneously and the iPod will stop playing to make or answer calls. When you connect the iPhone to the iPod adapter, the iPhone will display a dialog asking if you want to enable airplane mode (i.e., shut off wifi, EDGE radio, and bluetooth) to prevent interference. It's safe to answer "no" or just ignore it if you forget. If you answer yes, the cell phone features will be disabled.