Retro Gadgets: Fun Fountain by Wham-O
My parents bought a Fun Fountain for Stacey and I when I was in fifth grade. We LOVED that toy!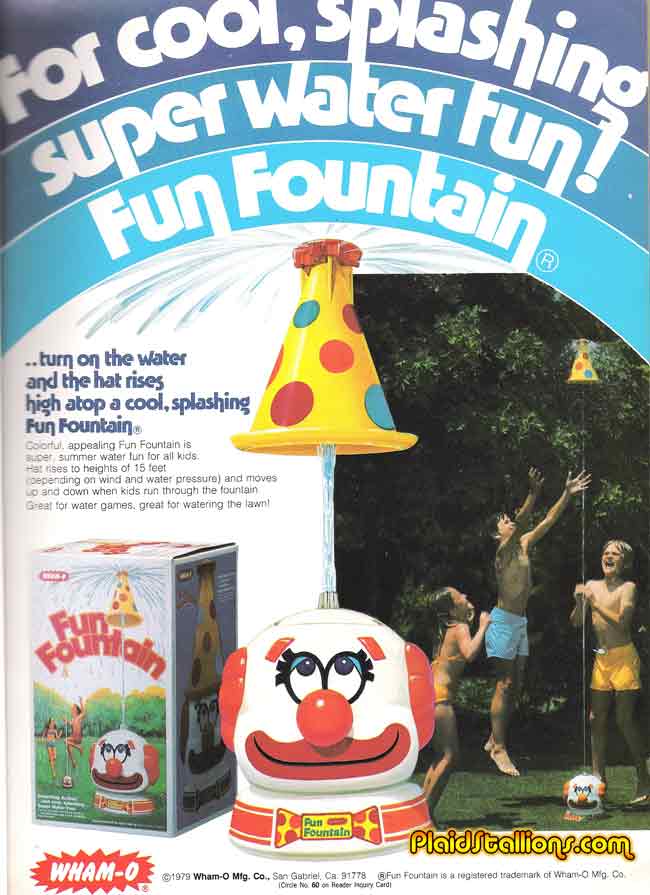 What this print ad doesn't show in enough detail is the clown hat. It was made out of a HEAVY plastic and was completely unattached to the fountain. If you interrupted the water flow, it would fall and painfully knock you on the head. I remember trying to catch the hat on my head so many times and just ending up with bump after bump on my noggin.
The object of the game was to run through the fountain WITHOUT making the hat fall. If you were quick enough, you could do it. Seeing this ad, however, makes me understand just how little water pressure we had. We could have never gotten that hat to go that high at our house in West Valley.
The Wham-O Fun Fountain was truly a toy for all seasons. From late spring until early fall, the Fun Fountain could be used as a water toy. In the colder months, the hat was the perfect dress-up toy. Somewhere, we have a photo of Stacey wearing that clown hat. Long after we stopped enjoying playing in the fountain, we held onto the hat.
Here is a commercial from Wham-O for the Fun Fountain:
Watching this commercial doesn't really show you how fun it was to play with the Fun Fountain. I was WAY better than that. Firstly, it was usually just me and Stacey, so we didn't have to wait very long four our chance to run through the fountain. Secondly, there was always the risk of that hat falling on our heads, so it was more exciting than the commercial showed. Finally, the hat also sprayed water out the top while it turned, so even when it wasn't your turn, you were usually getting splashed anyway.
Thanks, Wham-O for making one of the funnest water toys of my childhood!