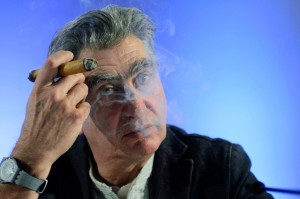 Quote in this article, «Die Alleskönner fressen zu viel Strom» – Wirtschaft – tagesanzeiger.ch, Nick Hayek, the CEO of Swatch is baffled by the Apple Watch. I had to rely on this article for the translation:
It's quite obvious that he doesn't quite understand what the Apple Watch does and doesn't do and overestimates the "burden" of charging one every day.
The Apple watch is an interesting toy, but not a revolution. These devices, which all eat so much power that they last no longer than 24 hours without needing to be plugged in. In addition, the user immediately loses control of their data. I personally don't want my blood pressure and blood sugar values stored in the cloud, or on servers in Silicon Valley.
The Apple Watch doesn't track blood pressure or blood sugar on its own. He seems to be confused. He also said that he wouldn't create a fitness watch.
As a watch producer, I cannot accept the responsibility of whether my device warns a customer in time before a heart attack.
It amazes me that this man thinks he has the ability to talk about a product he obviously knows nothing about. If we want to be honest, let's about we talk about the latest Swatch collection. Let's talk about how "useful" their watches might be.
There is a Swatch that's black that tells you the time. There's one that's blue that tells you the time. There's one that is red, green and yellow. Wait! Here's one that's a little more useful: it's pink with flamingos and it tells the time. The most complications you will get are date, day of the week, and stopwatch. If you want to talk about an "interesting toy," all of Swatch's watches have been demoted to that status, merely because all they do is tell time. When I have SO much connectivity on my wrist, the fact that I have to charge the watch on my nightstand is insignificant.
The thing that bothers me is that Swatch had a head start. They had a head start on easily changeable bands. They had a head start on watches for fashion instead of lifelong timepieces. They even had a head start on the smartwatch category. Instead of advancing and making their products better, they stagnated and abandoned every good idea.
All of this, coming from a HUGE Swatch fan. I have an immense collection of Swatches:
Pick Me! – My Life in Swatches
I have been a fan for almost thirty years and I feel betrayed by them. I WANTED a smart watch from Swatch, but what they gave me is laughable, even if the battery lasts six months.
The Gadgets Page – NO, NO! Bad Swatch!! Try Again!
When I saw that monstrosity, I wanted to swat Nick Hayek on the nose like a dog who has just piddled on the floor. I have been faithful to this company for thirty years and THIS is what they give me?!
It all reminds me of when Steve Ballmer said that Apple had no chance in the smartphone market. Nick Hayek is someone who should know better. He is someone who should have teamed up with Apple TEN years ago. Instead, he is an outsider in his own industry that is changing so quickly that he honestly can't keep up with it.