So, you're on a quest for the best MIDI keyboard out there, but can't seem to find the right one?
Whether you're a full- time producer, or simply want to lay down some tracks for your garage band, there is no better way to do it than via a MIDI keyboard controller.
With a wide range of different models, offering various numbers of keys, key action types, and additional features, finding the right one for your needs can be a daunting task.
Fret no more, as we cover the basic things you should consider when buying one, as well as present to you our pick of the top 10 keyboards on the market.
Best Midi Keyboards 2018 Review
In order to help you with finding the best MIDI controller keyboard, we decided to filter our selection according to the most important specifications.
From the more compact and lightweight models, with fewer keys, to the bulkier ones offering a bit more.
So, let's jump right in and see what these puppies have to offer!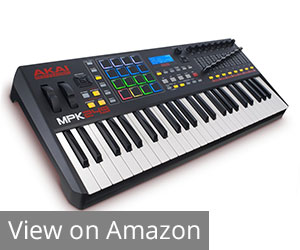 A quick glance at this keyboard reveals the neatly organized layout of the buttons as well as the sturdy build. As it is a 49 key model, the dimensions are a bit larger, but still, make it a MIDI controller you can easily fit on your desk.
The MPK49 features 49 not only semi-weighted keys but also includes Aftertouch for optimal control.
The 16 RGB backlit trigger pads correspond to different percussion presets. You can even cycle through four different pad banks, for a total of 64 different sounds. Even the most drum- hungry musicians will find this number quite satisfying.

If assignable buttons are your thing, you will definitely like what this keyboard has to offer. The 24 assignable controls include switches, knobs, and faders, 8 of each.
What makes the MPK49 stand out the most are probably the two 'sequence generating' modules, the arpeggiator capable of clocking from a MIDI or internal source, and the Note Repeat, which is controlled via the pads.
User experience suggests that the MPK49 is definitely a durable device, as it stands to its performance levels even after a few years of use. All things considered, we would say that this MIDI keyboard offers the best environment for any kind of extensive recording sessions.
Pros
Ergonomic and easy to use layout
A plethora of controls
Enjoyable to play
Cons
There are similar models for less money
A model with more keys would be even better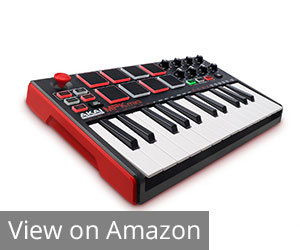 Compact and easy to fit in your backpack, the MPK Mini MK II certainly screams portability. However, somewhat surprisingly, it holds a wide variety of features.
The solid plastic body rocks a black and red design, making it stand out in the crowd of gray and bland looking studio equipment.
If you didn't have a chance to use a 25- key MIDI controller so far, getting used to one can be a bit tricky, as playing with two hands can be confusing at first. The synth- action keys certainly don't aim towards the natural piano feel, but they still feel great and give a solid response.
A neat way of controlling the pitch and modulation of the sound is done by the, once again, bright red colored thumbstick. Though it may seem a bit strange at first, as many other models utilize wheels for this parameter, we found that the thumbstick is quite fun and easy to use.
Definitely, an important part of any good MIDI keyboard is the pads. The MPK Mini MK II offers 8 velocity- sensitive pads which are also backlit.
The pads feel sturdy and durable, and can, of course, be programmed in any way imaginable via software packs.
The rest of the controls, including the 8 programmable knobs are pretty straightforward. No unnecessary bells and whistles, just the crucial parameters, adding to the minimalistic design.
Trying out this model shows how easy and fun it is to use, and with it being budget friendly, it's a great way of getting into recording, mixing, and a great studio keyboard overall.
Pros
Simple, yet effective design
Lightweight and portable
A great beat making keyboard
Cons
The included software is limited
Setting up the controller with the software is a bit confusing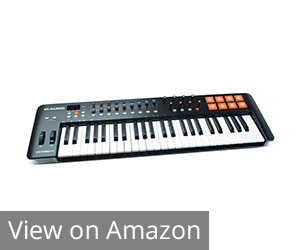 A clear winner in the connectivity category, the M- Audio Oxygen 49 MK IV is a well- built, long lasting piece of recording equipment.
As this keyboard comes with easy to read instructions, we found all of the following options and features easy to work with.
The working surface offers a plethora of controls, which are neatly divided, and provide a user- friendly interface.
The 49 synth- action velocity- sensitive keys are coupled with a sustain pedal input, giving the musician a wide range of possibilities when it comes to straightforward piano playing.
The parameters are controlled via 8 knobs, and nine faders, which can easily be assigned to control different settings in the software you're using. All of them feel sturdy and provide a nice level of precision.
As any good M-Audio MIDI keyboard is known for, this one also includes 8 velocity-sensitive trigger pads, making it a good choice for anyone looking for a beat keyboard.
Besides designing beats, you can utilize the pads for clip launching, making the whole process way easier.
With a straightforward design, plug- and- play connectivity, with no hassle when connecting it to the software, the Oxygen 49 MKIV makes for the go-to studio keyboard.
Pros
The pads perform nicely
The keys provide decent tactile response
Cons
Some musicians may not like the feel of the synth action (We did!)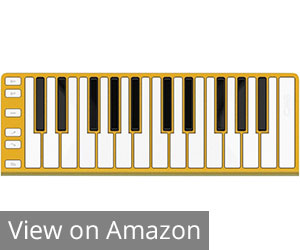 Although it may look like a toy at a first glance, this keyboard midi controller feels surprisingly solid. The white keys are a bit downscaled in comparison to a real piano, but the black keys retain the full size.
Even though there is no weight action, and the keys feel a bit clicky, that doesn't affect the overall performance.
The included Polyphonic Aftertouch feature means that you have an additional range of expression after each keystroke, by simply applying different amounts of pressure or sliding up/ down the key.
With octave up and down, modulation, pitch bend and sustain switches, you can easily apply the basic sound effects.
These buttons are also pressure sensitive, so an extra degree of control is present even though it's achieved by buttons and not rolling switches. However, tuning in the desired amount of these effects can be a bit tricky as you will have to get used to the buttons.
This model is a great choice for anyone looking for a minimalistic, simple, and cheap MIDI keyboard that you can just pop in your backpack and have with yourself at any time.
People that have used the Xkey Portable Musical Keyboard describe it as the go- to device for musicians in need of a quick and simple way to input tunes. Though it may not be perfect as the main keyboard for more advanced piano playing, it definitely does a solid job, especially at the given price point.
Pros
Portable as it gets
Very playable
Rocks a neat, minimalistic design
Supports Polyphonic Aftertouch
Cons
Modulation buttons aren't that precise
The keys aren't weighted
Alesis with their V49 offers a great option for musicians in need of a USB MIDI controller capable of handling plugins and various virtual samples. Regarded as the go-to company for the best midi keyboards, Alesis proves that once again with the V49.
The neatly organized piano keys are positioned to the right of the keyboard, leaving the parameter controls on the left- hand side. With a layout like this, your right hand is free to use the mouse, while your left-hand tinkers with the controls on the device.
As the dimensions put this keyboard in the mid-range, it's perfect for a more modest studio setup.
Given the fact that the 49 keys are semi-weighted, even the pianists should be pleased with the natural feeling response these keys provide.
The 8 pressure and velocity-sensitive trigger pads light up when in use, which does come in handy when used as a DJ keyboard.
With 4 knobs and 6 buttons, the V49 isn't something that you would use for extensive mixing and producing. Where it does shine though, is classic piano input, beat production, and clip management.
The overall specification and feature roundup make the V49 a good keyboard for both beginners and more advanced users. If a piano with beat pad is what you're looking for, this model is definitely worth checking out.
Pros
Fairly portable, good battery life
User- friendly
Cons
Sensitive to dust, has to be maintained regularly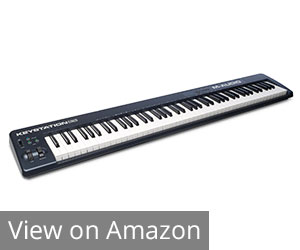 The M- Audio Keystation 88 II is a device that offers a great playing experience, both to amateurs and professionals. As M- Audio is known for making the top keyboards out there, this model is no different.
A quick overview of the design shows that even though this model has quite a surface, a minimalistic approach was chosen, with only the most important parameter controls included. The slim footprint makes this model perfect for a drawer- style keyboard setup.
Although the 88 full-sized semi-weighted keys aren't the closest thing to a real piano, they still feel natural and give a good response.
The pitch/mod wheels are on the left, and on the upper right- hand side, there is also a set of play, pause, and record buttons, as well as a set of navigation buttons. These come in handy when navigating your way through various recording software packs.
The included Ableton Live Lite program is a solid option for basic recording, remixing and editing work. With no drivers needed for this keyboard, it's ready for use straight out of the box.
The Keystation 88 II manages to balance the simplicity a novice musician values, and the feel and sound quality more advanced and expert piano players look for. Perfect as both a live keyboard as well as a USB midi keyboard controller, M- Audio definitely hit the spot with this one.
The ease of use and sturdy body makes this keyboard an obvious choice for both pianists and producers in need of a full- size natural-feeling MIDI keyboard.
Pros
A solid choice in the bigger keyboard category
Simple, yet does the job
Easy to use
Cons
Wheels and sliders feel a bit wobbly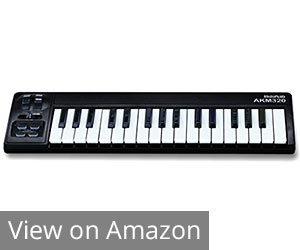 Sailing through the vast sea of good keyboards, we had to include the Midiplus AKM320. Although not that famous as other companies we've mentioned so far, it wouldn't be fair not to include this one.
If you thought you absolutely had to spit out a good amount of money for a good midi keyboard, think again.
The AKM320 is certainly a cheap midi controller. With a price tag well below $100, we had to cut it some slack while reviewing it.
Though it may not look sturdy, it boasts a pretty solid construction. Compact and ready to fit in your backpack, it's a solution worth looking up if you travel often and are in need of a keyboard.
The keys are velocity sensitive and provide a synth- like feedback while playing.
Offering a sustain pedal input, this model certainly differentiates itself from most if not all its competitors in the given price range.
Besides the regular keys and buttons, the transpose and octave buttons work pretty smooth.
As it features a plug and play approach and works well with all of the music production software we tested, it's a good solution for beginner musicians looking into production and basic mixing.
The AKM320 is definitely a cheap midi controller, but a midi controller that does the job at the end of the day.
Whether you use it as a backup keyboard, a portable one, or you simply need a budget solution for basic needs, the AKM320 will get you through the end of the day.
Pros
One of the best budget keyboards you can get
Supports sustain pedals
Works out of the box
Cons
Keys can feel a bit stiff
The volume slider isn't that precise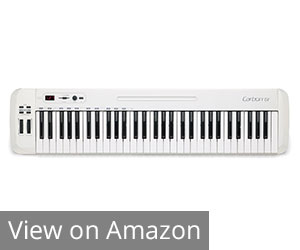 Boasting a minimalistic, clean, yet functional design, the Carbon 61 by Samson is a popular keyboard amongst musicians who value tablet connectivity.
Though it can be described as being on the larger side of the spectrum, the Carbon is fairly lightweight and easy to carry around.
The back of this keyboard offers a sustain pedal input, a MIDI output, and a USB port for the mentioned tablet (iPad) connection.
As it is completely powered via the USB port, there is no need for a power adapter. A great thing when you already find yourself tangled in cables.
This weighted midi keyboard features keys that are of course also velocity- sensitive. The overall feel of the keys is nothing out of the ordinary, but solid enough to justify the price.
When it comes to controls, Samson obviously opted for the minimalistic approach. Besides the standard pitch/ mod wheels on the left-hand side, octave and transpose buttons, and the volume slider and edit button, there is not much to be said.
The buttons and wheels do feel solid and provide a good amount of feedback when used. Precision shouldn't be a problem.
It's clear that this keyboard was designed to satisfy the needs of musicians who use their keyboard coupled with a tablet. The front of the board offers a neat pocket for the tablet to rest, perfect for notation reading or using a DAW.
With its simple and effective design, the Carbon 61 is clearly a solid choice for anyone looking for a midi keyboard that is at the same time a digital piano as well as a basic device for recording.
Pros
Comfortable to play
Tablet- friendly
Portable
Cons
Could use a bit more features
Doesn't support a tablet charging port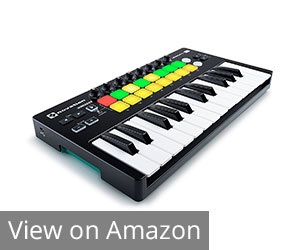 At number 9, we have one of the best-selling Novation midi controllers in the market. The Launchkey Mini, with both its features and compact design, makes it very popular among various musicians, especially with it being regarded as the best budget keyboard.
As it is practically a small keyboard with a beat pad, you have all the needed functions of, usually much bigger devices, in a form almost capable of fitting in your pocket!
25 synth-action keys are probably enough for the target audience of this model. Of course, they aren't the most realistic feeling keys out there, but then again, this kind of MIDI keyboard isn't something a pianist would buy.
Above the classic piano key layout is a set of controls. The controls consist of track and octave switches, as well as 8 programmable knobs.
The knobs are easily assigned to different sound parameters in the included software, as well as most third-party ones.
As it is a highly- regarded beat pad keyboard, the Launchkey Mini MK2 truly excels with its 16 velocity- sensitive multi-color pads. They not only feel great but can be programmed in different sets, making the number of different clips or samples you launch even bigger.
Packing quite a punch in a good- looking and compact body is what Novation had in mind when designing the Mini MK2. As it is very easy and fun to use, it is considered as one of the best midi controllers, as well as best buy keyboards, by numerous DJs and EDM artists.
Pros
Wide range of DAW compatibility
High- quality pads
Long battery life
Cons
Not that sturdy
Prone to damage by dust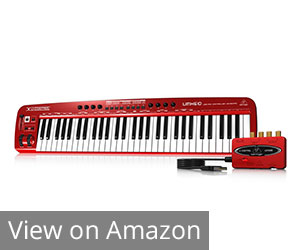 Well known for their high- quality music gear, Behringer doesn't disappoint in the world of the best midi controllers.
Oriented towards pianists, the UMX610 offers more than 100 different musical instruments onboard. This means that you don't necessarily have to preload sound presets if you want more classical sounds from your keyboard.
The 61 semi-weighted velocity sensitive keys provide good tactile feedback that should surprise most piano players.
As the controls go, besides the buttons used for instrument sound change, there are also the common pitch/ mod wheels.
Showing that it is indeed more than a digital piano, the UMX610 offers 8 rotary knobs and 10 assignable switches for parameter control in just about any DAW environment.
What truly sets this model apart from the others, is the unreal battery life. This keyboard can last for up to 6 hours of use without having to change the batteries.
All things said, the Behringer U-Control UMX610 can easily be described as the best music keyboard for light mixing and piano playing. With the easy to use interface, great battery life, and amazing 100 instrument sound bank, Behringer hit the jackpot with this one.
Pros
Portable
Easy maintenance
Great battery life
Cons
Sounds kind of strange if you don't use the pitch/ mod wheels right
How to choose an adequate MIDI keyboard for your needs?
Price
How much a keyboard cost is determined by the number of keys, overall size, and the different features it holds. Think about how much money you're ready to spend, and look for necessary features accordingly.
Key Count, size, and weight
First of all, you should consider the amount of space you have in your recording/ performance environment. Trying to jam an 88-key device on a small desk in a home studio isn't easy.
Simply ask yourself how many keys do you actually need, and save yourself some money as well as space.
More keys also mean a heavier device, so if you plan on touring often, or performing gigs every weekend, a more compact solution always pays out.
Keyboard Action Options
Different models offer a different feel when it comes to the keys. The way that the keys respond to pressure being the main difference, there are 3 types of action types.
The most important factor when deciding which action type to go for is your personal impression.
If you have any experience whatsoever with any kind of keyboard or digital piano, you should know by now what works best for you. If not, ask a friend to try out their instrument, or simply pop in a music store and try away.
Synth Action – This type of action feels like you're playing an electronic organ. It personally reminds of those toy keyboards we had a chance to play around with when we were kids. Not to say that this type of action isn't good, but it just feels a lot different than a real piano would.
This may be the best choice for musicians who aren't pianists and don't really require that natural piano feel when playing.
You can also play very fast parts like solos or crazy arpeggios on this kind of keyboard action.
Semi-weighted Action – Landing somewhere in between synth and weighted action, semi-weighted keys offer a certain degree of resistance, with a slightly faster release time.
Weighted Hammer Action – Oriented mainly towards pianists, this kind of keyboard action mimics the action of a real piano.
However, if you're not a pianist, and don't really care about the realism level the keys provide, and simply need a solid device for music input, it's often not worth it as these keyboards tend to be pretty pricey.
Input, Output, and Pads
Besides the regular USB MIDI connection, it's a good idea to check if a keyboard has additional connectivity options, such as the conventional 5- pin MIDI DIN for connecting various other MIDI devices.
There are loads of midi keyboards with pads to look for. The pads are useful for controlling different samples when working in a DAW. In most cases they are pressure- sensitive meaning you have extra room for creativity when playing around with them.
Conclusion Time!
The clear winner of our Best MIDI Keyboards 2018 Review would have to be the Akai Professional MPK249.
Though other models offer similar features and options, the way that Akai chose to integrate the controls on a relatively small surface is what makes this model so special.
The 16 illuminated pads coupled with 8 knobs, 8 faders, and 8 switches, when assigned different parameters via the 3 banks provide the highest level of overall control and presence when working in DAWs.
We do feel we have to mention the CME Xkey andMidiplus AKM320 once again. Even though they were the cheapest models in our review, they weren't chosen as the Best Budget MIDI Keyboard.
Both models were blown away by the sheer power of the Novation Launchkey Mini MK2, but we still find them to be a very good choice for musicians that don't want to spend much on a MIDI keyboard controller.
We hope that this review and guide helped you in finding the best MIDI Keyboard for your needs!
Related Gadget Reviews and Buyer's Guide