What if I told you that your favorite song, from your favorite producer, wasn't really created by that producer… at all?
What if I told you the artist that inspired you to join the ranks of music producers, never actually made their own music?
What if I told you that some of the biggest artists in the music world today actually pay others to create their music for them?
I hate to break it to you – but it's true.
Ghost producing has existed in the industry for years and is still, to this day, one of the most controversial topics out there.
Behind the scenes of your favorite DJ playing an epic track on the main stage at EDC Las Vegas, Electric Forest or any festival in the same vein sits a ghost producer that created that track from the ground up.
Back in 2015, DJ Mat Zo – a Grammy-nominated British producer – took to Twitter to comment on how many of EDM's biggest stars use ghost producers for their tracks without credit.
He wrote that "electronic music has rotten teeth that need to be pulled." He also tweeted that he's "just a nerd standing up to the jock who stole all the nerd's homework."
Needless to say, there is indeed something of a negative connotation around the role of ghost producers and the lack of credit they receive, which in turn goes to said "jocks" – meaning the huge DJs we watch on stage that take credit for tracks they may have never touched.

Alan Walker in the studio with his ghost producer on creating Alone
As electronic dance music has risen in popularity and so many notable producers continue to shine in the limelight, ghost production has become even more scrutinized and debated.
As a ghost producer myself, I felt this was necessary to discuss, as there are multiple points of view and pros + cons within the argument. There is truth behind much of it – or all of it.
The question we all want to know: is ghost producing really that bad?

A ghost producer, by definition, is a professional producer that is hired to create a track for an artist but remains completely anonymous.
Typically being a ghost producer for an artist involves a contract that prevents the individual from ever revealing themselves – which, in fairness, makes sense since you wouldn't want to let the world know that a DJ or producer doesn't actually produce their own music.
An important clarification to make here is that a ghost producer is not a co-producer.
Oftentimes individuals who are blamed for being ghost producers are actually listed as co-producers in the track. They will work with the artist collaboratively – bounce ideas off each other, bring in expertise from both of their past experiences and create a final product together – whereas a ghost producer typically works more on the solo side.
Co-production is relatively common and is actually a great way to bring in various individuals for their own expertise in particular areas like vocals or bass lines.
One thing to consider in this situation, however, is the definition of a producer.

Some producers stand in more as managers and feedback-givers versus handling actual production. You could have multiple collaborators/co-producers on one track but perhaps only one individual actually managed to play with the controls.
Some producers may know how to use a particular type of production software. Some producers, on the other hand, may not know anything about software but understand how to make a track sound great by bringing in various pieces of the puzzle. Some producers do both. It's a toss-up.
Thus, there are blurry lines in terms of definition here. However, one thing still stands: co-producers are not ghost producers.

This is arguably one of the biggest and most important questions that creates so much controversy around the subject.
Why is it that people choose to use ghost producers?
What benefit does it have? This ask goes for both sides of the relationship – the artist hiring the producer, and the producer him or herself.
Let's think about it from the artist's point of view. Perhaps they're in a creative rut and need a new feel or different vibe with their latest track.
Maybe they need a new track for an upcoming booking or based on an ask for a promoter, but they don't have the time or bandwidth to put it together.
Delegating tasks when you're busy – or famous, as many of us can imagine – makes your workload easier, right?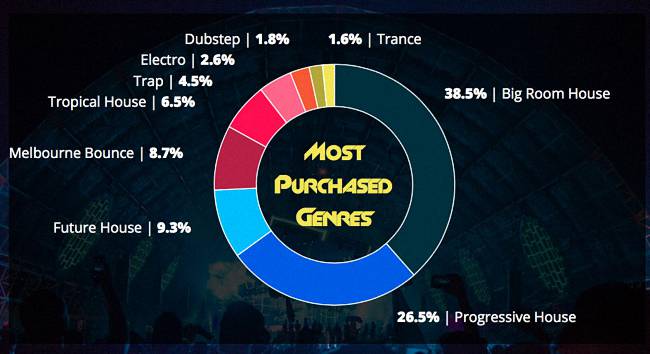 If someone offered to take a task off of your plate that you knew would take a ton of time and effort, maybe you'd consider it.
Or would you?
From the ghost producer's point of view, there are indeed people out there who are willing to give out their creative work with no credit if that means being paid.
Perhaps they pride themselves in their skills but don't care for the recognition. Perhaps he or she wanted to make a living off of something they loved doing and found this to be the best in.
All in all, being a ghost producer is a job – one that pays well, at that – and at the end of the day, people often choose this career because it's one they enjoy doing.

So it's settled: ghost producers exist, and they're wanted by artists to continue to do so. The people who decide to pursue this role as a career are the ones that continue to perpetuate this controversy. But let's break it down: how do ghost producers work?
As mentioned earlier, logistically it's simple – from a high-level perspective, at least. Ghost producers are hired to create a track for an artist. They create the track, then pass it off to the artist to release.
There are a number of EDM ghost producer sites out there, although of course, quality varies. You should be wary with these, however, as many of them seem to run scams and typically just sell simple, incomplete or not-worth-it ideas and tracks as-is.
However, if you work with an individual ghost producer you'll be able to work directly to create what you're looking for.
The creation process depends on who you're working with and payment also differs based on the producer.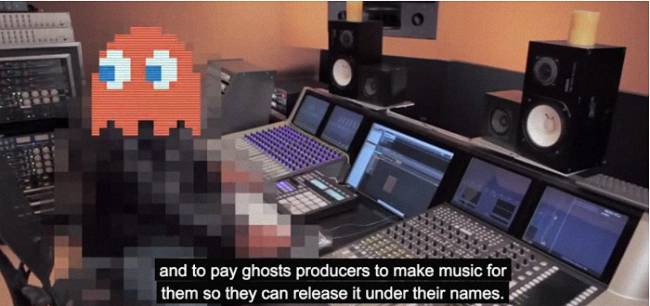 Some charge per track; some charge per hour. Some prefer royalties. The payment truly depends on the job at hand.
You also have to keep in mind how well the track will do.
Do you want an upfront stipend for the track and no royalties to follow, or would you rather assume the track is going to explode and collect a ton in royalties instead?
To kick things off in a working relationship between producer and payee, this is how I'll typically play it.
I'll ask for reference tracks to get a feel for what they're interested in. If there are initial concepts, ideas or basslines that have been created, I'll gather those from the client as well.
From there, it's time to evaluate: is there enough here to put something together? If so, I can put a track together in a day. Sometimes it's just a matter of taking what exists already and finding the right sounds and layers to create a complete piece.
Don't get the wrong idea here, though – the creation and collaboration process isn't always clean and easy. The workflow can be complex depending on what type of information is sent to the producer. There are many different workflow scenarios, but here are a few examples:
Many times the producer will receive half-done work from a big-name DJ and be asked to clean up and better the existing product rather than starting from scratch, which may be more of a time spent to refine the track.
On other occasions, a client may send over examples and ideas of the sound they want. The ghost producer will then create a concept of a track for the client, and the process moves from there. Feedback is a huge key here, and you can fairly assume there's a large amount of back and forth happening between the producer and the purchaser here.
This process is tricky and often times hard to nail down timing for. Like I said, if I have everything I need, I can complete a track in a day – but that's also assuming that all elements are at hand and can be brought into play.
Perfecting the final product does require your full attention and effort, so after a few hours of work I'll pause and step away from the production so I can clear my head. I'll come back to it a few hours later to give it a fresh listen and settle with the final mixdown.

If this is a path you're interested in embarking down, this is important. If you love to make music and enjoy spending your time producing, you're already halfway there. The second half is getting your music out to the masses who are interested in purchasing it.
There are numerous ghost producing websites such as EDMGhostProducer, Ghost-Producing.com, and GhostProducer.io that allow producers to upload their tracks and sell them to DJs – who remain anonymous.
This is an easy way to utilize available platforms that can link you with a network of individuals that are willing to spend money to have a track under their name without actually creating it.
Keep in mind, however, that many of these platforms take a cut of the sale of the track so you will likely walk away with 60-80% of what it sells for.
You'll also likely be able to gather more clients if you can create different genres of music. As you spend more time producing, be sure to learn how to produce various types of music to create more opportunity for yourself. You should also be able to work with various DAWs such as Ableton or Logic Pro.
Lastly, be sure that your productions are high-quality and are professionally mixed and mastered. The better your tracks sound, the more likely you'll gather more ongoing customers.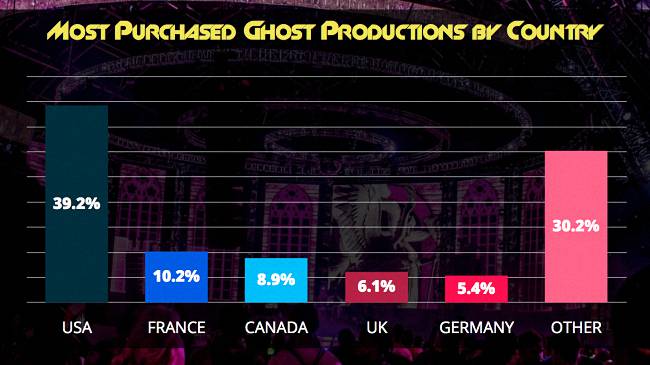 As a ghost producer, make sure that you are also keeping your own well-being in mind. You should maintain a solid, professional relationship with the client in which transparency should be key.
There should be fairness across the board and credit should be given to the proper individuals regardless of where or how the work is being used. An artist manager with New York's Moodswing Management named Brian Scully describes this scenario:
"I don't have a problem with it if the person not getting credit is benefiting professionally or financially. I do have a problem with experienced artists taking advantage of young producers. A talented kid who looks up to you isn't going to say no or negotiate higher rates."
Let's also consider the next scenario. Ghost producers – or at least some ghost producers – don't stay ghost producers forever. So, what do you do when you "retire" from ghost producing?
This depends on the level at which you've been ghost producing – has it been a side gig or your full-time role? Is it something you love doing, and what to continue?
After "retiring" your ghost producing role, maybe it's time to move on to producing under your own name and building a brand for yourself.
If you are tired of working in the industry, move on to something else. But these relationships you are building with industry contacts are also something you can rely on after you produce, as they're great connections to have if you decide to stay in the industry in a new role.
Ghost producing: the pros
It's clear that ghost producing is a controversial subject, but also can be very beneficial for both parties in the relationship. Let's look at the positives of ghost producing.
For the producer:
You can make money doing something you're passionate about. If fame and fortune don't interest you but you still want to produce, this is a perfect opportunity to do so.
You're being handed money to spend time in a studio with your favorite pair of studio monitors, better your practice, dabble in new gears and continue to create the way you love to create.
You can meet high-profile clients and establish solid relationships with each, which will come in handy for your current career and potentially in the future as well
You can expand your music production knowledge and learn more about various genres
You can get your foot in the door as an established producer
You can create work without dealing with fame if that's not something that interests you
You can create a reputation for yourself among other producers
You work on your own schedule instead of sitting at a 9-to-5 office gig
You choose your pay and what you want to sell
You can earn anywhere from $1,000 to $20,000 per track for A-list DJs.
For the purchaser:
You can bring in new creative angles to your sound by creating an entirely new song or to complete an unfinished one.
You can create connections with producers who can help you on a current track and reach back out to them in the future for other work
You can save yourself time by delegating your work to a different producer
Turnaround for a track is typically quick and reliable
If you're performing often, you won't need to find time to work in the studio and can focus on perfecting your live sets instead. Particularly during festival season, it's challenging for DJs to keep up with performances on the festival circuit and in clubs while simultaneously juggling brand partnerships and new track releases. Admit it: you don't have time to spend hours on end in a studio. You can choose to pay someone to do it instead.
You have someone new designing custom sounds for your brand
Ghost producing: the cons
On the flip side, there are the negatives that come with ghost producing as well.
Beyond the purchaser/producer relationship, the larger concept of authenticity is questioned.
A ghost producer means that an artist is not producing his or her own work and therefore does not have a true sense of the effort that it took to create that work.
Beyond that, fans of the artist who purchased the track may ultimately be following someone who perhaps may have never even crafted their own sound via producing in the first place.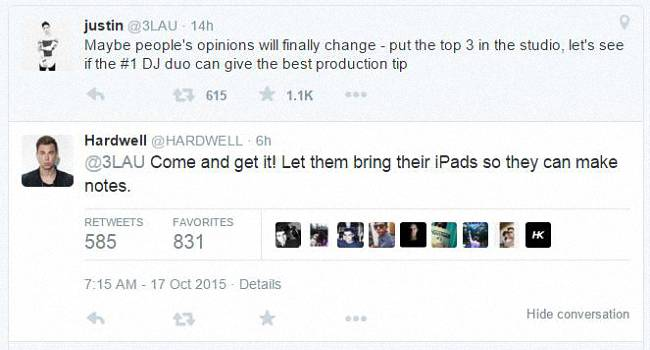 This can be seen as a huge negative and a large part of the controversy that exists on the subject.
When considering the relationship built between producer and purchaser, a few negatives include…
For the producer:
You won't receive credit from a wider audience – or be able to claim fame for any awards won – from your work. Say that one of your tracks hit a Beatport Top 10 chart or a Billboard top tracks chart or a DJ Mag Top 100 chart. You can't say that was you. You're forced to watch it happen and watch someone else take credit for it.
Contracts may cause problems. They may lock the producer into their current gig and not allow them to do other work at the time, preventing them from expanding their client list and, in turn, making necessary income. If you sign an NDA, you can't discuss your work at all. Other contracts that ghost producers shut down any other available work that could be on your plate. You'll need to be wary of the risk you take by taking on certain clients, which is particularly important for the younger generations of up-and-coming ghost producers
For the purchaser:
You are not able to put your innovative concepts to full fruition by hiring a ghost producer. As a result, the tracks you play may have less meaning and less passion when performed live because they're just another song in your setlist
You lose a creative outlet by delegating it to someone else
You lose an aspect of authenticity in your music by having another individual produce it
You are not collaborating with the ghost producer, so there's likely more back-and-forth required versus sitting in a studio and working on a track together

In the industry, ghost producing is all too common to not have a few names that have been thrown around in ties to the efforts.
It's time to give credits to the unsung heroes behind the artists we love.
Below is the list of the most well-known artists that use ghost producers and the REAL names of their ghost producers:

No matter where you are in your career, you have to keep producing to stay relevant. But maybe you don't know how to produce, or you don't have the time, or you prefer to DJ and not actually produce. Maybe you want to focus on performing and not sitting behind a computer screen putting a track together. But at the end of the day, you
need
to produce. And some people choose to go the ghost producer route in order to do so. Let's name a few.
Maarten Vorwerk, previously ghost-produced for Dimitri Vegas & Like Mike. Though he cannot ever truly confirm in public that he did indeed ghost produce tracks that landed in the DJ Mag Top 100, many would be safe to guess that this connection is highly likely. Vorwerk also wrote for DVBBS and Sander van Doorn – names you'll also see in that Top 100 list.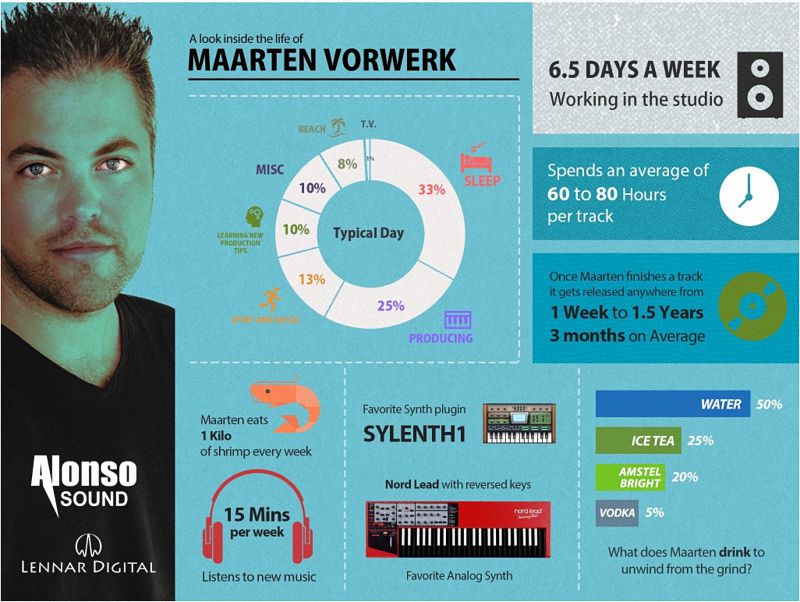 KSHMR is also another well-known ghost producer. This is interesting since he is both an artist himself, with his own brand, but also a ghost producer – he plays both sides.
It also could be considered a bit of a red flag in terms of how to work ghost producing into your career.
Think of it logically: if you're new to the scene, typically play small venues and don't have a huge reputation as an electronic music artist yet, how likely is it that one of your tracks lands in the DJ Mag Top 100?
Unlikely.
And yet, here we are.
To revisit the Mat Zo Twitter rant mentioned early on: Zo actually called out Diplo, Tiesto, and Markus Schulz as artists who ghost produce (you can see his stream of tweets here). Other artists rumored to have hired ghost producers include David Guetta, Armin Van Buuren, Steve Aoki, Benny Benassi, and many more names you've probably seen perform at sold-out venues or on main stages at huge festivals across the globe.
The ultimatum of ghost producing
Regardless of which side you're on when it comes to the subject of ghost producing, there are benefits and there are downsides.
But don't be too quick to judge and believe that this is limited to strictly electronic music production. Think about it this way: what genre do you listen that you believe has not used a ghost producer before? Consider ghostwriters as well – people who write songs for famous singers and performers. Frank Sinatra, Justin Bieber, Britney Spears, Cher – so many artists that are celebrated in our culture did not write some (or all) of their own songs or do not know how to produce or engineer.
No matter how often the subject is revisited or how much of a stir is created time and time again, one thing is clear: ghost producing is a thriving industry and it won't be disappearing anytime soon.
Ghost producers have existed for a long time – across genres – and it just happens to be that large electronic music artists are most open and honest about it today. Bands have used ghost producers. Pop stars have used ghost producers. Some of the biggest names in pop culture have never written their own songs or engineered their own tracks, and often times lip-synch their own tracks.
So why has it become such a huge deal for EDM ghost producers? Why is it such a controversy? Perhaps it's because this music scene was considered "underground" for so long that it upsets people to see that element of authenticity taken away. Individuals who have been attached to artists in EDM for years find a sense of outrage when they realize that the same ghost producing processes used by pop stars, country stars and beyond also apply in their beloved industry.
There is no right answer here. The question is: what do you believe is acceptable?